Overhead (Bridge) Cranes
Also referred to as bridge cranes, overhead cranes are used to lift, lower, and transport materials horizontally through overhead space. This automated process is two to three times faster than manual labor and thus improves efficiency and workflow. Overhead bridge cranes can also safely operate in extreme environments and handle dangerous or corrosive materials, which minimizes the risk of injury. Due to the lack of obstacles on the floor, they reduce workplace accidents and damage to products and materials. The most common industry applications are in manufacturing and production, where parts or raw materials must be moved through an assembly line or fed into a machine in a controlled fashion.
These cranes come in two different configurations:
Single girder overhead cranes have one girder beam attached on each side to an end truck. The lifting mechanism, or hoist, runs along the bottom flange of the beam. These cranes are designed to handle lighter-duty loads. Some benefits of the single girder configuration include:
Quicker installation
Easier maintenance
Simpler trolley and hoist design
Lighter runway beams
Reduced freight expenses
Double girder overhead cranes have two girder beams attached on each side to an end truck. The trolley and hoist run on a rail installed atop the beams. These cranes can support extremely heavy or bulky loads. Some benefits of the double girder configuration include:
Limitless span and capacity
Greater hook height and better headroom
Easier to incorporate special features such as walkways, service platforms, cabs, magnetic reels, and lights
Can be used in both indoor and outdoor operations, such as mining, railyards, and ports
We also install both types of rail systems:
On top running cranes, the end trucks are supported on rails that are attached to the top of the crane runways. This provides the highest load capacity, best hook and lifting height, and the most overhead floor space.
Meanwhile on under running (underhang) cranes, the end trucks are supported on rails that are attached to the bottom of the crane runways. These cranes are most commonly incorporated into the existing ceiling trusses and roof structure of a building, which maximizes overhead space. It is easier and more cost-effective to configure the under running system in a single girder design for lighter duty applications.
Jib Cranes
Jib cranes have a very wide range of motion. The horizontal boom is attached to a vertical column that pivots, which allows the crane to lift and lower a variety of materials within a certain arc of rotation. We install the following four types of jib cranes:
Wall-mounted (column-mounted) jib cranes are supported by a strong building wall. They can be installed right underneath the lowest ceiling structure and thus provide maximum clearance below and above the crane. The abilities to swing around or under obstacles and fold out of the way of nearby operations make wall-mounted jib cranes quite flexible. However, they can only rotate up to 200 degrees.
Cantilever wall-mounted jib cranes offer the greatest amount of clearance above and below the boom in a full-cantilever design.
Tie-rod supported jib cranes are the most economical wall-mounted type. The boom is supported by a wall bracket and a single tie-rod, which allows the hoist to travel along the full length of the beam.
Mast type jib cranes are floor-mounted and require an additional overhead support structure. Since they do not require any special foundation, mast type jib cranes are the most cost-effective 360 degree design.
Full cantilever cranes have the boom fixed to the top of the mast, which provides maximum lift and the full use of available headroom.
Drop cantilever cranes use side-plate connections to mount the boom at a specific height below the top of the mast in order to clear overhead obstructions.
Free-standing jib cranes are the most versatile type and the easiest to install, since they only require a reinforced concrete foundation. Most of them can rotate for the full 360 degrees and offer the longest span and highest capacity rating of any other jib crane. Free-standing jib cranes can be base-plate mounted, foundation-insert mounted, or sleeve-insert mounted. Their simple design allows for versatile application in both indoor and outdoor operations, such as assembly lines and loading docks or marinas.
While traditional jib cranes only have one boom, articulating jib cranes have two. The swivel arms have different arcs of rotation - 200 degrees for the primary boom and 360 degrees for the outer arm. Besides providing a larger coverage area and greater flexibility, articulating jib cranes can be mounted on the floor, wall, ceiling, or even on a bridge or track system. This versatile design allows the crane to be positioned more precisely in areas where traditional jibs would have difficulty maneuvering loads. However, articulating jib cranes are more limited in span and are not built to handle heavy-duty loads or frequent use.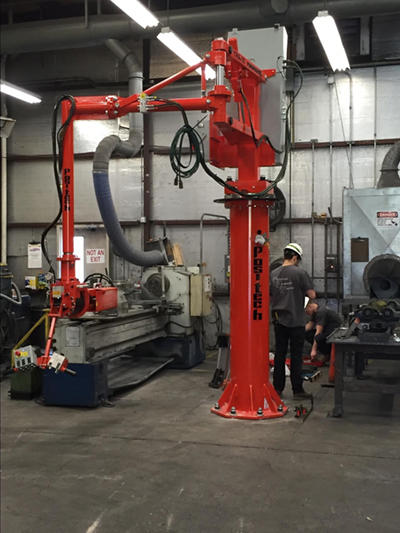 Installing a manipulator
Manipulators
These machines that can lift, rotate, and position objects with little to no effort on the part of the operator. They can even do so when the objects are being moved outside of the machine's center of mass. Manipulators can transport heavy or awkwardly-shaped objects more safely, precisely, and quickly than manual labor.