Fall-Protection
According to the Occupational Safety and Health Administration (OSHA), one of the top causes of industry injuries and deaths is falling. For this reason, fall-protection equipment is essential to minimize fall risks and prevent workplace accidents. We install a variety of fall-protection equipment to protect both your employees and your products without hindering work productivity.
Safety railing is perhaps the most basic form of fall protection.
Handrails help prevent slips, trips, and falls and can be incorporated into pallet gates or ladder systems. High-visibility coloring is recommended.
Non-penetrating rooftop guardrails use counterweights and pole weights with padded surfaces for stability without damaging the roof surface.
Parapet railing is mounted atop the parapet wall instead of directly on the roof surface, which requires significantly less railing and preserves the aesthetics of the building.
Roof hatch guardrails can be made in a non-penetrating, freestanding design. They can simply slip over the top of the hatch and be fitted against the curb of the hatch with a self-closing safety gate.
Skylight protection railing encloses roof skylights and prevents serious injuries that could result from falling and breaking them.
Safety gates are easy to install, adjust, and customize.
Self-closing gates provide nearly continuous fall-protection. They are designed to fit on handrails of all sizes and can be mounted in both left and right positions.
Vertical lift gates provide protection in confined spaces that lack adequate swing clearance, such as staircases, ladders, platform openings, and transition points to different levels.
Clear height mezzanine gates and pivoting mezzanine gates are counterbalanced lift gates that ensure that one gate is always between employees and the leading edge. The former gate allows for loading and unloading of taller pallets.
Loading dock gates are constructed in single cantilever, dual cantilever, or rolling opening gate designs.
Pallet safety gates open from the outside and allow a forklift to safely place pallets in a mezzanine or other type of platform.
Impact Barriers
Impact barriers are an economical way to protect employees, equipment, building structures, and inventory from collisions with forklifts or other heavy pieces of machinery. They are painted bright yellow for high visibility and can be customized with gates, lift-out rails, plate covers, and other safety features. We install the following impact barriers:
Guardrails
Bollards
Vehicle barriers
Column and corner protectors
Bumper guards
Overhead door track guards
Goal post door guards
Machine perimeter guards
Wall barriers
Wire Partitions
Industrial wire partitions are used to protect valuable items from pilferage and highly-secured areas from unauthorized access. The modular and adjustable panels are easy to install, customize, and relocate. Partitions can be made of woven, welded, or mesh wire and built to include anywhere from one to four walls and a ceiling, depending on the location and purpose of the partition. The following are common examples of wire partitions that we install.
Rack security enclosures guard full pallet loads with tamper-resistant wire mesh to prevent inventory theft.
Dock door security cages provide a secure waiting area for visitors, such as truck drivers and deliverymen.
Outdoor equipment enclosures protect equipment such as AC units and dumpsters from theft or vandalism.
Machinery guard partitions add a protective barrier between employees and dangerous machinery.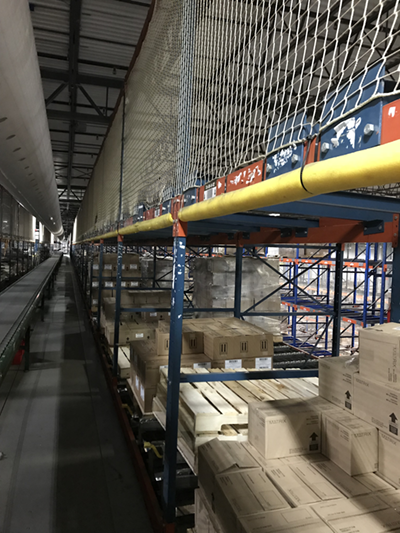 Fall-protection safety netting installed atop pallet racks
Safety Netting
Safety netting is typically made from synthetic fibers, such as PVC, polyester, or nylon. The lightweight, flexible design of safety netting makes it an economical and easy-to-install form of protection. For industrial settings, safety netting is often designed with high-tenacity fibers that are flame-retardant and resistant to abrasions, chemical corrosion, and moisture damage.
Machine guarding nets protect employees from potential projectiles that could result from malfunctioning equipment or airborne material.
Lifting cargo nets are square-shaped with forged rings or reinforced fabric loops in each corner. They provide a secure and balanced method of lifting heavy or awkwardly-shaped objects without adding the excess weight of a chain sling or lifting beam.
Fall-protection nets catch personnel to prevent injury or death from a fall. Liners can also be added to catch debris and fallen tools. Making wise use of these safety nets in your facility can lower your insurance costs and increase your safety rating.
Contact us today for a free quote and expert advice to determine which type of safety equipment is the most practical for your facility or warehouse.