Rivet Shelving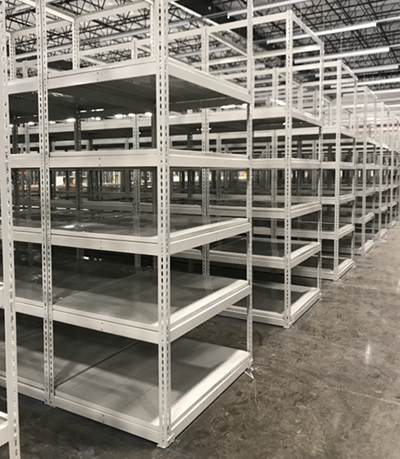 Rivet shelving
Rivet shelving is sturdy, quickly assembled, and reconfigurable. It is primarily used for carton and case storage and each individual shelf can typically hold up to 1,400 pounds. Common applications include record and document storage, general warehousing, and garage organization.
Rivet shelving consists of welded steel posts, shelf beams, and shelf decking. Teardrop and pin connectors offer stability and can be built with a single- or double-rivet design. Your choice of decking depends on the size and weight of the items stored. Particle board is heavy and therefore best-suited for smaller, lighter items. Meanwhile, wire mesh is lightweight yet strong and ideal for storing larger products.
High-Rise Shelving
High-rise shelving is taller than 10"3' and often serviced by rolling ladders or stock picking trucks. They can be equipped with a variety of different shelves, bins, drawers, trays, rails, and the like. In order for the shelving to be stable, there are precise dimension requirements that must be met. Common features include ground guidance for trucks, top guidance for cranes, steel dividers, and both vertical and horizontal bracing.
High-rise shelving with drawers and mobile ladder

High-rise shelving under construction
Mobile (Library Style) Shelving
This style of shelving is most commonly used in library storage. It consists of wheeled shelves attached to a rail system that is bolted to the floor. No fixed aisles are required to access shelved products, which allows for incredibly compact storage. In fact, mobile shelving can store more than 3 times the capacity of traditional rivet shelving.
Mobile shelving has 3 modes of operation:
Manual - pull a handle to move a shelf from side to side
Mechanical assist - turn a rotating handle, which allows the user to move over 4,000 pounds of weight with minimal physical effort
Powered - push buttons or utilize touch screen technology to access the requested aisle